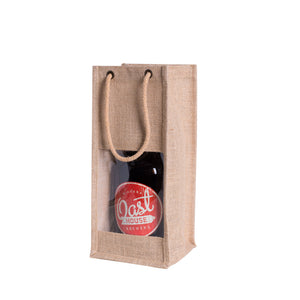 A Statement of Sophistication Meets Eco-Friendly Innovation
Sustainability with a Flair: Crafted from biodegradable jute, this wine bag is where eco-consciousness meets elegant design.
Engineered for Durability: The internal lamination ensures that this bag isn't just stylish, but also built to last, safeguarding your wine bottle.
A Window to Luxury: The clear plastic window tastefully highlights your wine bottle, making it a centerpiece even before it's unwrapped.
Tailored for Perfection: Designed to snugly hold either a 750ml or a 1-liter bottle, this bag is versatile enough for any occasion.
FACTS & FIGURES
Dimensions: 6"W × 14"H × 5.5"D
Material: Jute
Imprint Area: 3.5"W × 3"H
Decoration Options: Screen Print - 1 color only - avoid fine details.
Jute bottle bag ideal for growlers, wine or other large bottles. Ideal for gifting.
Inside lamination & clear front window
Holds 1 x 64oz growler or 1 x 1.5L wine bottle Not suitable for fine imprinting.  Text must be at least .25″H or 22 pt
MINIMUM ORDER: $50.00